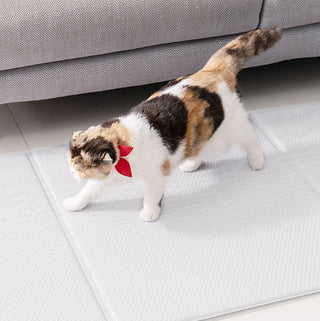 BESTSELLER
DFANG ANTI-SLIP MAT
100% Waterproof | Non-Slip | Scratch Resistant
Pet safety certified play mats that help support the joints of your furkids for safe and fun play time!
Shop Mats
Shop dFang
See what other pet owners say
★★★★★

The pet slope is awesome, it is functional and supporting MiuMiu to get up and down to the sofa.
★★★★★

2nd purchase. Loving the new 7mm even more than our previous 5mm! 😍 As you can see, da dog is totally loving it. It's easy to clean and pleasing to the eye, safe for pet to run and jump. Perfect for us!
★★★★★

One of my dogs has mild hip dysplasia. Another also has this and had surgery for luxating patella. The vet advised to place pieces of rug or carpet on the hard floor in my home so that they don't slip when running. Among all the different types of floor coverings that i tried, the Dfang play mat is the only one that is able to stand up to their wild play. 
★★★★★

Love that the bowl is elevated and has a big surface area! Toby doesn't need to bend down and the big surface area prevents him from poking his eyes. The binge blocker slows him down and reduce mess! Great for brachycephalic dogs.
★★★★★

My puppy keep slipping when she runs around and I was scared she is gonna hurt herself. With this mat she never slip and I can let her run around as much as she wants. Very high quality and I'm very happy with the design as well.
★★★★★

I love the Fluff Trough XL. When using it, it is evident a lot of thought has been put into its design. It is solidly built and the parts are of great quality. Clean up is a breeze and it makes it so much easier for my Singapore Special to eat.
★★★★★

I'm always on the lookout for the PERFECT Dog items for my furkids. This serves as an elevated platform, resting area, bedrest and easy for my robot vaccum to go under
★★★★★

I've bought dog houses previously and it always ends up smelly or stained - being so huge, it's a trouble to put them in the washer. This dfang dog house is great because it's made with PU leather and a dfilm coating with doesn't absorb smell and it's easy to clean off dirt if any. Just vacuum up any fur or dust and wipe in with a damp cloth. It may seem a tat pricy but you get what you pay for. A regular fabric dog house can cost you approx $60, say you have to change it every 3-6 months or to wash it till it's out of shape - you end up spending more. Honestly I think the dfang bed is a great investment, most importantly, my pup loves it. Gives him a sense of home and coziness!
★★★★★

My dog loves this mat from the moment I laid it out. She takes naps on it and plays on it. It also helps to cushion her when she jumps off the bed. Excellent quality too and easy to clean!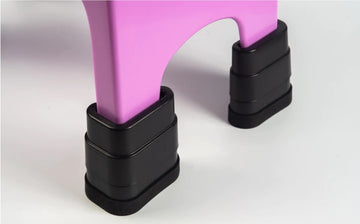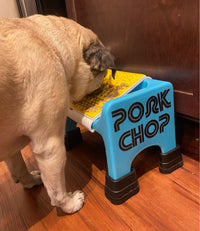 Elevated Dog bowls
Fluff Trough
Thoughtfully designed with a wide front opening and raised side and back walls for fuss-free meal times, even for the messiest eaters!

Choose from our variety of removable bowl insert for easy cleaning (standard size only)

Perfect for all flat-faced dogs and cats.
Available in 2 sizes to fit small to medium breeds.
shop standard size
shop XL size
protect the joints
dfang petplay ramp
Help your furkid get around the house safely and comfortably.
Shop Steps & Ramps